John Anderson: Councilmember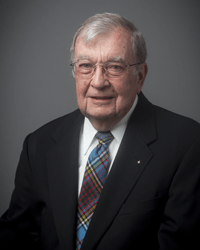 The Honorable John Anderson relocated to Anthem at Merrill Ranch in 2009. John and his wife, Deborah, moved from Austin, Texas where they had lived for eleven years. Prior to his stay in Texas, he had lived in Arizona for twenty eight years, raising his family in Chandler and working for Motorola. He retired from Motorola in 2001 as Quality Systems Manager.
John is a graduate from Bowling Green Business College, which is now part of Western Kentucky University. He has a B.S. degree in Commerce with majors in Business Administration and Accounting. During his career at Motorola, John volunteered to be in a pilot program to move into the computer department. As the department grew he became an Information Systems Manager and spent most of his career training and installing information systems within the Motorola Semiconductor Division. Most notable was that John and his team installed the first worldwide internet based system in Motorola.
John has always been involved in community affairs. He served on several committees in the Chandler United Methodist Church, Indian Guides, PTA, coached Little League, served on committees for the Chandler Unified School District, involved with the Chandler Regional Hospital, HOA Board member in Texas, Board member for a community water board in Texas, worked for the Hays Trinity Water Conservation District in Austin, Texas and served on the Architectural Protection Committee at Parkside, Merrill Ranch in Florence, AZ.
During his time with the Hays Trinity Water Conservation District, he received several certifications from the State of Texas relative to his job as co-manager of the district. Most recently, John served on the Town of Florence Planning and Zoning Council.  John continues to be active in community affairs within the Parkside at Merrill Ranch community.
Councilmember John Anderson is the Town Liaison for the following:
East Valley Partnership
Industrial Development Authority of the Town of Florence, Inc.
Pinal Water Augmentation Authority