Rebecca Guilin: Councilmember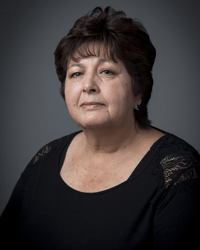 Honorable Rebecca Guilin has been a resident of Florence, Arizona, for more than 22 years. She was born in Florence and raised in Blythe California. In 1993 she returned to Florence. Ms. Guilin has three adult children and six grandchildren.
Ms Guilin served the Town of Florence from March 1994 to June 2013 in the Finance Department, serving as Finance Director from October 1997 until her retirement in June 2013. Past employment has been in farming, hospital financial management and bookkeeping.
Ms. Guilin was elected to the Florence Town Council in August 2014 to a vacated seat. She was elected in 2014 to a term that will expire in December 2018. As a Councilmember, Ms. Guilin has been appointed as liaison to the following: Florence Historical Advisory Committee, Town of Florence Budget Committee and the Town of Florence Public Safety Board Advisory Committee.
Ms. Guilin attended Palo Verde College in Blythe, California and College of the Desert in Palm Desert California. She was a Certified Public Manager and a past member of the Governmental Finance Officers of Arizona. She has served on the Blythe Little League and Florence Little League as an officer, Citizens Trust and Action Committee, past member of Soroptimists International and Florence Woman's Club.
Ms. Guilin looks forward to seeing the continued growth of Florence, making sure capital infrastructure projects are completed and ensuring that the town, as a whole, prospers and develops to attract and retain citizens and create jobs for the community.
Councilmember Rebecca Guilin is the Town Liaison for the following:
Historical District Advisory Committee
Public Safety Retirement Board