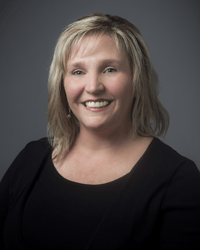 In 2006, Honorable Tara Walter relocated to Florence, purchasing a home in Anthem at Merrill Ranch.  She lives with her husband Jim, and their three children: Chris, Jason, and Claire.  She is actively involved in community projects ranging from family oriented events to providing opportunities for children in our community.
Mrs. Walter is an assistant principal and truancy officer with the Florence Unified School District.  As an elementary school educator, she served as a Team Leader, Reading Coach, Mentor Teacher, Gifted Site Coordinator and Science Club Advisor.  In 2007, Mrs. Walter created the Science Club to heighten student interest in science; allowing students to participate, utilizing hands-on experiences.  An emphasis was placed on participation, teamwork, and cooperation, while focusing on various science disciplines of life science, physical science, and earth science.  The club development prepared students to participate in Pinal County Science Olympiad Competitions at Central Arizona College. Over the years, many students have placed in competitions, earning school recognition.  Mrs. Walter also assisted in the creation of the NJHS Charter for Anthem K-8 and served as NJHS Advisor for four years.  Her responsibilities in these positions allow her to create opportunities for the students and aide colleagues in achieving higher standards for themselves professionally.
Mrs. Walter holds two Master's Degree in Education from Northern Arizona University, graduating with high honors in Educational Leadership: Principal k-12 and Elementary Education; two Bachelor's Degrees from the State University of New York in Elementary Education and English (Literature/Writing), graduating on the Dean's List; and an Associate's Degree in Liberal Arts from Herkimer County Community College.  She was provided the unique opportunity to complete the second half of her student teaching experience abroad, in Newcastle Upon Tyne, England.  During her experience abroad, she welcomed the opportunity to travel throughout Europe.  This experience allowed her to learn and appreciate other cultures and ways of life.
Mrs. Walter recognizes the civic duty of serving the community in which she resides.  Prior to moving inside town boundaries, her family lived in another community, whereas the HOA was not well represented in the neighborhood.  She saw this as an opportunity to create strong leadership and achieve a positive impact on the neighborhood.  Her goals were realized when she was elected President of the HOA.  The affect that she had on the neighborhood was lasting, and the results are still visible today.
Feeling that call to civic duty, she decided to run for Florence Town Council and was appointed to her first term in June of 2012. In 2014 she was elected Vice-Mayor. She feels there is much opportunity for prosperity and growth that is upon us right now and is proud to be part of a monumental time in the history of the Town of Florence.
Mayor Tara Walter is the Town Liaison for the following:
Anthem Area
Arizona Legislature
Central Arizona Association of Governments
League of Cities and Towns Resolution Committee
Maricopa Association of Governments
National League of Cities and Towns
Pinal Mayor's Monthly Meeting
Regional Transportation Authority
Town Council