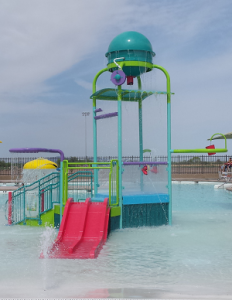 Contact Us
Pool phones will only be answered when the facility is open to the public.
For any other questions please phone the Parks and Recreation Office.
Phone: 520-868-7589
Competition/Lap Pool
Two 1-Meter Diving Boards
Two Water Slides
Family Play Pool, with Zero-Depth Entry
Toddler Slides
Shaded Areas
Family Dressing Room
Training Classroom
Aquatic Center Opening Day
May 18, 2019 12:00 pm to 5:00 pm
FLORENCE AQUATIC CENTER FEES
Resident
Non-Resident
Lap Swim (per day)
$4.00
$4.00
Open Swim (per day)
YOUTH
Children under 6 Months
FREE
FREE
Children 17 years old and Younger
$2.00
$2.00
ADULTS
Adults 18 years old and over
$4.00
$4.00
Pool Passes (30 visits)
YOUTH
Children under 6 Months
FREE
FREE
Children 17 years old and Younger
$15-$30
$15-$30
ADULTS
Adults 18 years old and over
$45-$75
$45-$75
Facility Rentals
Residents/Non-Profits
Non-Residents/Commercial
Multi-Purpose Room (2 hour minimum)
$25.00/hr
$37.50/hr
Private Pool Party (2 hour minimum)
Competition Pool
$75.00/hr
$112.50/hr
Play Pool
$175.00/hr
$262.50/hr
Whole Center
$250.00/hr
$375.00/hr
Kindness, consideration and courteous behavior are appreciated and expected.
Unacceptable behavior may result in suspension. Unacceptable behavior includes but is not limited to:

Verbal Abuse
Intimidation
Criminal Damage
Disorderly Conduct
Profanity/Threats
Harassment
Under the Influence of alcohol/illegal drugs
Threatening or jeopardizing the health, safety and/or well-being of others.

Respect facility property and the property of others.
No hanging on lane lines.
No public display of affection.
Customer are responsible for securing their valuables. The Town of Florence is not responsible for lost or stolen items. Glass containers, alcoholic beverages and smoking are prohibited.
No drinks, candy, popcorn, gum or food of any kind shall be permitted in pool or within required walk ways of the pool.
Food and beverages are allowed in the concession area only.
Smoke free facility.
Climb diving board ladder one step at a time and use both hands to hold onto rail.
Only one person allowed on the diving board at a time including the ladder.
Do not lean or swing on safety rails.
Running on the diving board is not allowed.
Dive from end of board, only-dive straight off.
Only one bounce allowed.
Look and wait for the prior diver to reach the pool ladder before diving.
Divers must exit the dive well immediately.
Fulcrum adjustments must be authorized by lifeguard.
Divers hands must enter water first on head-entry dives.
No "distance" diving, "inward" or "reverse" dives allowed.
Lifeguards have the authority to stop dives with a high degree of difficulty.
No handstands or sitting on diving boards.
Use diving boards at your own risk.
Improper use of diving boards can result in serious injury or death.
Parents and guardians, WATCH your children. If your child is in the water, you should be in the water.
Non-swimmers and children under seven years old must be within arm's reach of a responsible guardian 13 years and older at all times. These youth must stay in the Leisure pool area and cannot swim in the competition pool, enter the diving area, or slide area. If youth can swim the freestyle stroke or breast stroke proficiently at least one full lap of the pool comfortably, then supervision is not required.
Children seven years and under require a guardian at least 13 years old to be present at facility.
Head first diving shall not be allowed anywhere in the pool area where the water depth is five (5) feet or less. Only feet first entry under five (5) feet or less.
No running or horseplay.
Swimmers please limit talking to lifeguards on duty.
Aquatic staff has complete authority in pool area and additional rules may be enforced.
No admittance to secured area when pool is closed.
No outside food allowed into facility.
Only clear plastic bottled water is allowed.
Please keep all food and beverage in concession area.
Glass containers and alcoholic beverages are not permitted.
Please supervise small children.
No smoking.
Please deposit all trash in receptacles.
One 14″ x 18″ cooler is allowed into the pool facility.