Community Services Department
Mission Statement
The mission of the Florence Parks and Recreation Department is to provide programs, services and facilities that enrich the quality of life for all residents.
Vision Statement
The Town of Florence, Arizona has a rich and diverse history while serving as the county seat for Pinal County.  Florence Parks and Recreation Department recognizes the town's heritage and emergence as a regional leader, and embraces our role in providing quality of life experiences for our citizens and visitors.  We will continue to provide quality, affordable programming and events, as well as picture perfect parks and other park and recreation facilities.  The Department will provide complete recreation centers, new and expanded parks and safe, developed trails.  Parks and Recreation will continue to be a major partner in tourism opportunities as well as economic and cultural prospects.
Values
Exceptional Customer Service
Professionalism
Partnerships
Health and Wellness
Quality
Fun!
History
Integrity
Special Events
July 27 @ 6:00 pm
-
11:00 pm
The Greater Florence Chamber of Commerce presents the 19th Annual Casino Night. Dinner Starts at 6pm with gaming starting at 7pm. Tickets are $35 each or to for $60. For question please […]
Find out more »
Activities
June 26 @ 6:00 pm
-
7:30 pm
The Town began the process to develop a Parks and Recreation Comprehensive Plan last January with GreenPlay, LLC, a nationally known parks and recreation management consulting firm, hired to oversee its development. GreenPlay representatives created, […]
Find out more »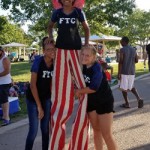 July 4 @ 12:00 pm
-
9:00 pm
Start your day at the Aquatic Center, then head down to Heritage Park for a day filled with activities. We have a corn hole tournament, inflatables, food vendors, a live band and of course Fireworks. […]
Find out more »
News
Office Location
Contact Us
Address:
778 N. Main Street
PO Box 2670
Florence, AZ 85132
Phone: 520-868-7589
Fax: 520-868-7591
Hours:
Monday – Friday: 8 am – 5 pm
Fitness Center Location
Equipment at the Fitness Center includes treadmills, recumbent bikes, weight machines,  arc trainers, warm-up/stretch machines and free weights.
Contact Us
Address:
133 N. Main Street
PO Box 2670
Florence, AZ 85132
Phone: 520-868-7587
Hours:
Monday – Thursday: 5 a.m. – 9 p.m.
Friday: 5 a.m. – 8 p.m.
Saturday: 6 a.m. – 12 p.m.