Vallarie Woolridge: Vice-Mayor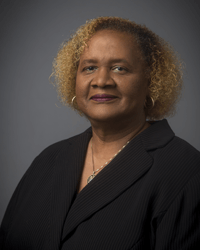 Honorable Vallarie Woolridge has been a resident of Florence, Arizona, for more than 26 years.  Mrs. Woolridge has been employed as an Administrative Assistant for the Coolidge Unified School District for over 25 years.
Mrs. Woolridge was appointed to the Florence Town Council in January 2004 to complete a term of a vacated seat.  She was elected in 2006 to a term that expired in June 2010.  She was since re-elected to a term that expires in June 2014.  As a Councilmember, Mrs. Woolridge has been appointed as liaison to the following: Florence Library Advisory Board, Florence Unified School District, Florence Anthem at Merrill Ranch Community; and back up for the Gateway Northern Pinal Area Alliance of Governments.  Mrs. Woolridge is on the Resolutions Committee for the Arizona League of Cities and Towns.
Mrs. Woolridge attended the University of Kansas.  She is an active member of the Union Baptist Church, where her husband, Donald, is the Pastor.  Mrs. Woolridge served on the Focused Future Action Board – Senior Cluster.  She is also a 2004 graduate of Florence Leadership Academy.  Mrs. Woolridge is currently the Chair of the Arizona State Democratic Party's African-American Caucus.  Mrs. Woolridge is also a member of the Black and Brown Coalition of Arizona; a unified group tasked to achieve social justice and to advocate respect for human and civil rights, thereby benefiting the Arizona community as a whole.   Mrs. Woolridge is also a volunteer at the Casa Grande Regional Hospital in the Chaplain Services Department.
Mrs. Woolridge feels blessed that she is part of the decision making body which will guide the direction of the Town of Florence communities.
Vice-Mayor Vallarie Woolridge is the Town Liaison for the following:
Anthem Area
Gateway/Northern Pinal Area Alliance of Governments
Library Advisory Board
League of Cities and Towns- Resolutions Committee
Native American Community Tribes
Pinal Partnership