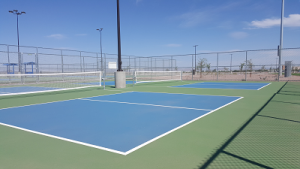 The Town of Florence Parks and Recreation Department wants to remind residents and winter visitors that the new pickleball and tennis courts are open and available for drop-in play. "The courts have been open since our Grand Opening in October." stated Bryan Hughes, Parks and Recreation Director for the Town of Florence. "Just recently we started to see more activity, especially by pickleball players."
There are two tennis courts and two pickleball courts. All courts are lighted and are open from sunrise until 10:00 p.m., seven days a week. The lights come on automatically at sunset. The tennis courts have covered benches for players to rest in between matches. Pickleball players are encouraged to bring lawn or camping chairs to sit in between matches.
For those interested in learning pickleball, Florence Parks and Recreation hopes to have free lessons available soon.
The courts are located west of the Library and Community Center, located at 778 North Main Street, and just north of the Florence Aquatic Center.
For more information, contact Florence Parks and Recreation at 520-868-7589 or visit the Town of Florence website at www.florenceaz.gov/parks.