Your trash and recycling service may change the week of July 3rd to accommodate for the 4th of July holiday.  If your trash and recycling is normally picked-up on Monday, then there is no change to your services.  However, if you normally receive trash and recycling services on Thursdays, then your service will be delayed one day.  Thursday trash and recycling services will take place on Friday, for that week only.
If you are scheduling bulk trash pick-up the week of July 3rd, then it is picked up on Thursday, July 6th, instead of Wednesday, July 5th.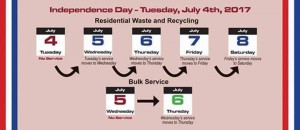 For questions about your trash and recycling services, please contact the Town of Florence at (520) 868-7677.