Community Facilities District
The Arizona Community Facilities District Act (the "Act") became effective in 1988, allowing a Town, on petition (request) of property owners, to establish a Community Facilities District (CFD) to finance and provide public infrastructure, such as water, sewer, schools and streets, within a defined area, i.e. the "District".
A CFD is a special purpose, tax levying public improvement district of the State of Arizona which may only be located within the corporate boundaries of a municipality causing its creation. The Act allows the Town to deal with the costs of new growth through public financing mechanisms that assess only the lands and landowners that benefit from the specific improvements, infrastructure or enhanced municipal services provided by the District.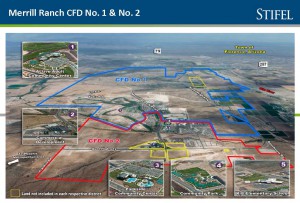 CFD Agendas and Minutes
Merrill Ranch Community Facilities District No. 1
Formation of the District was approved on December 19, 2005 by the Town upon the request of CMR/CASA GRANDE LLC., an Arizona limited liability company, ROADRUNNER RESORTS, LLC., an Arizona limited liability company and FELIX HUNT HIGHWAY, LLC., an Arizona limited liability company (collectively the "Merrill Owners"), and PULTE HOMES CORPORATION, a Michigan corporation ("Pulte"), as the owners of all of the land within the District upon formation. The District is located within the municipal boundaries of the Town.
The District was formed to finance the costs of certain public infrastructure purposes, including particularly with respect to the Projects. A portion of the land within the boundaries of the District is being developed as part of an approximately 3,191 acre master-planned development known as Anthem at Merrill Ranch ("Anthem"). Anthem is being developed within an approximately 8,970 acre mixed use, master-planned community knows as "Merrill Ranch".
Simultaneously with the formation of the District, Merrill Ranch Community Facilities District No. 2 ("District No. 2") was formed over approximately 1,060 acres of Merrill Ranch to finance the cost of certain infrastructure improvements within District No. 2. Within Anthem, there is both an active adult community ("Sun City") and a family oriented community ("Parkside").
The boundaries of the District and District No. 2 do not overlap, however Anthem encompasses land within both districts. The development is the subject of the Development Agreement. (The Development Agreement is available for review at the Office of the Clerk of the Town.) The Single-family residences to be constructed by Pulte within Anthem currently range in size from 1,000 to 4,100 square feet and are currently base priced from $100,000 to $270,000.